Match Review: Aioli Monkeys FC vs German All Stars
24-Sep-2016 15:00
League // Turf City 1

0

0

0

0

0

2
Referee - Jonathan // Assistans - N/A & Joe
Aioli Monkeys FC
Report
Victory!!
Two wins in a row for Aioli PM after a hot tough battle with GAS. A strong aioli squad assembled for this game and once GAS had secured their away strip, a nice shade of green, the match got underway. GAS were happy to sit deep and soak up the pressure while we tried to break them down. Eric was getting free in the box but last ditch tackles and wayward finishing meant the GAS GK hadn't too many saves to make. We arrived at the water break having had plenty of posession but with little to show for it. After the water break silvan was getting on the ball at RB and starting to work the ball into Darren and Eric well. Then just before HT the ball came again from the right side and broke to darren in the box. He had a Cross/Shot deflected in by the GAS defender. 1-0 just before HT and a cruel blow for GAS. We introduced the subs in the second half and were creating chances, Mark, ruben both hit the cross bar with difficult chances and Adri had a majestic free kick come back off the angle. Still 1-0 and GAS were always going to get a chance we felt. Micha broke in the channel and was 1 v 1 against Kelly from kentucky but Kelly stood tall and took it in the bread basket. Shortly after this a well worked move from the left from Kamel resulted in Peter receiving the ball at the edge of the box. He twisted and turned and struck a shot in off the post to make it 2-0 with 10 mins to go. We held onto possession well for the last few minutes to see the game out. Great to get our second win and even better to get a clean sheet. MOM to silvan for a quality effort from FB. Thanks to GAS for a good battle, looking forward to the return leg.
STATS
Yellow Cards
Steffen Schacher
Phillip Von Pein
Scoring
Peter Besselink
Opp Own Goal
Assists
Boujema Jelikh Kamel
Darren Naughton
Man Of the Match
(opponent)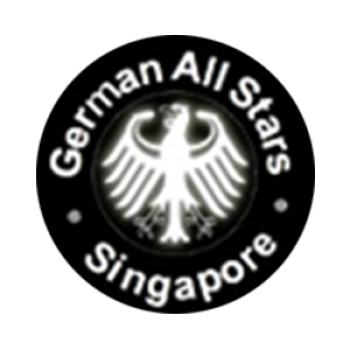 German All Stars
Substitutes
Report
Injury curse continues
After our first loss of points this season to Vikings last week and following a number of torn hamstrings, dislocated shoulders and broken ankles, we knew this was gonna be quite a battle. To add to a depleted squad, it was clear that the team with the majority of possession would sooner or later have the upper hand in the scorching heat of this 3pm kick-off. Nevertheless, GAS started off well, with a re-shuffled yet compact midfield and defense and keeping Aioli at bay for the first 20 minutes. However, Aioli gradually gained more possession, passing the ball nicely and swiftly, trying to tire our midfield until they'd finally find a break-through. GAS dealt well with the increasing pressure and no real chance was conceded until the very last minute of the first half where Aioli broke through on the right and crossed the ball dangerously into the penalty area only for Teo to scramble the ball into our own net with his attempted clearance. Second half continued in similar fashion with Aioli keeping most of the possession and GAS sitting tight and waiting to break on the counter attack. A wonderful through-ball from Basti (or Maik?) finally found Micha who was 1 on 1 with the opponent's keeper but his shot was saved well. This may have turned the game around, however, after 60 minutes, GAS started to lose its steam and when Leszi went off injured only minutes after he came on and with all subs exhausted, we had to finish with 10 men. Now Aioli was happy to take advantage of that by maintaining possession while pushing for a second. A number of good chances some of which were denied by our crossbar was followed by the second goal, which was a result of sloppy play from GAS on the right and a shot from the penalty box through Pipo's legs and into the bottom left corner. 2-0 final score. All in all. we simply were not good enough and for some strange reason, we are losing 2 players on average each match day, likely the result of improper individual warm up or game preparation. Congrats to Aioli for a very solid and fair game as well as a deserved victory. Looking forward to the re-match next year!