Match Review: Singapore Football Club vs German-Swiss All Stars
08-Oct-2022 17:00
League // Turf City 1

2

0

1

0

0

5
Referee - Ruslee // Assistans - Ong & Nirwan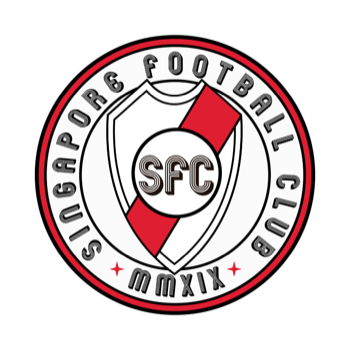 Singapore Football Club
Substitutes
Report
Tight Encounter
SFC were motivated to rebound after a disappointing loss to Latini the week before against a GSAS team that we knew would rise to the occasion. We got off to a great start with a strong handle of the game and controlled possession, patience, and aggression to win loose balls put GSAS under pressure. The first 20 minutes went to plan and we found ourselves 1-0 from a nicely worked through ball and a tidy finish from Fazrul. SFC had a few other good opportunities to take a commanding lead into the halftime break, but hit the post on one attempt but more often than not missed the target or failed to challenge the GSAS GK. GSAS fought hard and manufactured a few opportunities in the first half, but nothing too dangerous. SFC went into the break at 1-0 up, but had started to lose our discipline and execution the last 15 minutes of the half. Unfortunately, our sloppiness continued into the second half and GSAS started to pick up their intensity. 15 minutes into the half our LB played a ball forward and claimed the GSAS player ran into his outstretched foot. The referee gave him a straight red for kicking out and we went down to 10 men. **As a follow up in our team chat yesterday he was adamant it was still not a red. Fortunately we had a camera filming the match and VAR came back with a clear "kick out" though it wasn't as bad as it may have looked in real time. We of course gave him a tremendous amount of shit on the chat and credit to the referee for spotting it.** Funny enough we started to play better at 10 men as can happen in football as we started to concentrate more and regain some discipline. We started to create a few more chances, but down a man GSAS also started to push forward more aggressively. With about 20 minutes left to play Liam was fouled at the top of the box and it was "one too many" as he was being kicked about the pitch as usually happens to a player of his impact. This led to a scuffle and a bit of petulance from SFC as one of our players threw the ball into the face of the GSAS defender who made the challenge. It was embarrassing and he was given a yellow, but it could have easily been a red and we offer our apologies to the GSAS team for that outburst of frustration. A few minutes later SFC found a bit of space from a set piece and Liam found the bottom corner thanks to a bit of disguise from Fazrul and his dummy on the top of the 6 yard box. We were now 2-0 up and in a good place. However, that did not last long as GSAS scored on their next attack after our GK couldn't quite clear his lines with his initial save. 2-1 SFC. with about 15 minutes left to play Ataku rounded GSAS fill-in GK and was fouled to prevent the goal. SFC were awarded a penalty which Tim Walter confidently struck towards the bottom corner, but the GSAS fill-in GK made a fantastic save and the match remained at 2-1. From there we only saw a few half chances and the match finished 2-1. Credit to GSAS for a hard fought and enjoyable match.
STATS
Yellow Cards
Michael Brook
Joe Claridge
Andy Distelmans
Hamza Ben Naceur Gharfane
Marius Teich
Phillip Von Pein
Erik Zenker
Man Of the Match
(opponent)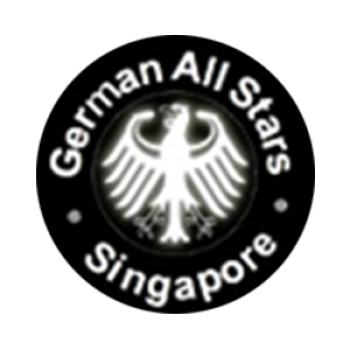 German-Swiss All Stars
Line-Up
Report
GSAS close to stealing a point from SFC
Coming from last weeks tight defeat against OG, GSAS wanted to show that they can compete against the top cosmo teams. And in the end they did show this though it did not result in collecting more points. SFC took control of the game early on and pushed GSAS with numerous attacks and clear superiority in ball possession. The 0:1 was a deserved early lead for SFC as they continued to attempt killing the game in the first half, threatening the GSAS goal and hitting the posts more than once. GSAS was further decimated by the loss of goalie Joe and striker Andy though injury. However, GSAS overall did a good job and keeping the SFC strikers to a minimum with no further goals conceded in the first 45min. GSAS occasionally broke free through central positions with Dee and Alain creating some space at times. The second half saw a more balanced encounter between the teams and GSAS getting more possession and some skilful counter attacks. SFC did manage to somehow squeeze in another goal but GSAS quickly managed to come back when scoring to make it 1:2 after 60min, which led to some interesting and entertaining last 30min. First, SFC lost their left winger through a straight red card, then a penalty deservedly awarded to SFC was miraculously saved by GSAS stand-in keeper Florent. GSAS seemed to be on the verge of getting a draw but the 2:2 didn't happen. Another match where GSAS showed its teeth and worth in competing with a top cosmo team but was not awarded at the end.